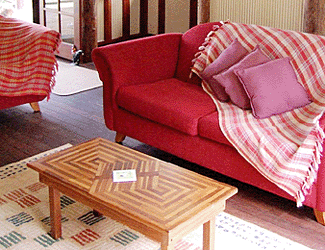 Cambray Cottages were built to embrace and enhance the beautiful countryside at Jarrah-Lea Springs. From the jarrah floors to the charming French doors, the cottages ooze that special country feeling.
Reverse cycle air-conditioning will ensure a perfect night's sleep during our hot summer months and if you're feeling a little chilly in winter, there's always the electric blanket to
keep you toasty warm.
There's nothing like a comfortable bed in a cosy cottage out in the country!
Each cottage has full kitchen facilities plus an outdoor BBQ area, complimentary tea and coffee, and laundry facilities on request. Guests receive a delicious Cambray Cheese platter on arrival.
Farm Cottage:
Sleeps four. Two queen-size beds.
Bush Cottage:
Sleeps six. Two queen-size beds and a bunk-bed.